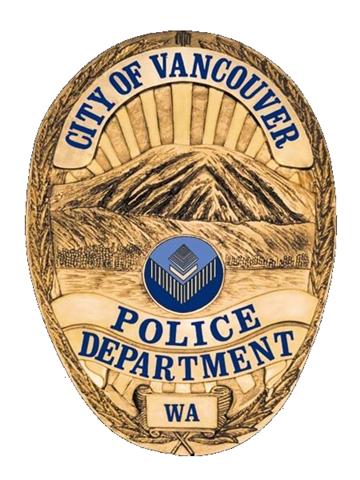 Vancouver Police investigate fatality collision
–
04/22/22
Vancouver, Wash. –On April 22, 2022, at approximately 5:32 a.m., Vancouver Police responded to 7803 NE Fourth Plain Blvd. (SeaMar Clinic parking lot) for the report of a motorcyclist who had been hit by an SUV. According to witnesses, they overheard the motorcyclist and other individual(s) in the parking lot possibly getting into some type of confrontation, they heard a crash and saw a dark-colored SUV driving out of the parking lot and the motorcyclist laying on the ground. The motorcyclist, a 57-year-old male, was transported to an area hospital and did not survive his injuries.
Detectives from the Vancouver Police Department Major Crimes Team are investigating.
No further information is available at this time.
###
Vancouver Police investigate drive-by shooting
–
04/15/22
Vancouver, Wash. –On April 14, 2022, at approximately 4:45 p.m., Vancouver Police responded to a disturbance with a weapon call in the south parking lot at 8700 NE Vancouver Mall Dr. According to witnesses, a dark-colored vehicle occupied by several males drove past another vehicle in the parking lot and witnesses heard gunshots. Both vehicles fled the area. Arriving officers located multiple shell casings in the area where the shooting took place. No injuries have been reported and no suspects have been identified.
The Vancouver Police Department Safe Streets Task Force is continuing the investigation.
###
Vancouver Police missing person case closed after remains positively identified
–
04/13/22
Vancouver, Wash. – On March 11, 2018, the Vancouver Police Department took a report of a missing person, Ashanti A. Conde, DOB: 8-1-1990. Ms. Conde's family reported they had not seen her for a few weeks. Through the course of the Vancouver Police Department investigation, it was determined that Ashanti Conde was last seen alive on February 22, 2018, in the area of Brush Prairie, WA., with a subject identified as Michael Conley. Michael Conley was reported missing on February 27, 2018.
Mr. Conley and Ms. Conde left Brush Prairie area on the evening of February 22, 2018, in a Cadillac Sedan. This was the last time they were seen alive. According to Skamania Co. Sheriff's Office reports, witnesses observed the Cadillac sedan crashed in a rural area in Skamania County just north of the Dougan Falls area on February 24, 2018; at this time, the vehicle was covered in snow; however, no one appeared to be in the vehicle.
On March 9, 2018, Michael Conley's body was recovered near the Cadillac sedan with no signs of foul play observed. Clark County Search and Rescue conducted a search of the area around the vehicle; Ms. Conde's remains were not located at that time.
Multiple tips were received throughout the investigation that proved fruitless and multiple searches were conducted in a variety of locations throughout SW Washington.
On September 26, 2021, the Skamania County Sheriff's Office, in coordination with the Clark County Sheriff's Office Search and Rescue Team and other teams, searched the area again around where the Cadillac sedan was recovered. During this search, human remains were located in a very rugged, and steep area near the sedan location. The remains were sent to a private lab for positive identification.
On March 31, 2022, Vancouver Police were notified by the lab that the remains were those of Ashanti Conde. With the positive identification and recovery of her remains, the Vancouver Police Department has closed the missing person case on Ms. Conde.
Information related to the death of Ms. Conde is being handled by the Skamania County Prosecuting Attorney's Office and Skamania County Coroner's Office.
###
Vancouver Police seeks missing teen (located safe)
–
04/11/22
*** Update ***
Rachel Rutherford has been located safe.
***
The Vancouver Police Department is seeking the community's help in finding a teen girl missing since 2/28/2022. Rachel Rutherford is a 14-year-old white female. She is 5'2″ tall and weights about 110 lbs. She has brown hair, partially dyed blue, and hazel eyes. She was last seen dressed as pictured in the photo outside the convenience store.
Anyone with information about Rachel is asked to call 911, or contact Detective Dave Jensen at 360-487-7446.
Vancouver police make arrest in hit and run collision
–
03/30/22
Vancouver, Wash. –On March 29, 2022, at 4:35 p.m., several witnesses called to report a vehicle versus pedestrian collision at E Fourth Plain Blvd./Todd Road. The victim, a 56-year-old female, was struck in the middle of the crosswalk by a vehicle that failed to yield and failed to stop after the collision. The victim had the signal lights illuminated and several other vehicles had already stopped for the crossing. The suspect vehicle was described as a metallic silver or blue Honda Pilot that continued eastbound after striking the pedestrian. The victim suffered multiple injuries and was transported to an area hospital for treatment.
The suspect vehicle was located at the residence in Vancouver and Bradley Kintin, 20 years of age, was arrested and booked into the Clark County Jail for Vehicular Assault and Hit and Run Injury.
Nothing further is releasable at this time.
###
Article Source: Vancouver Police Department