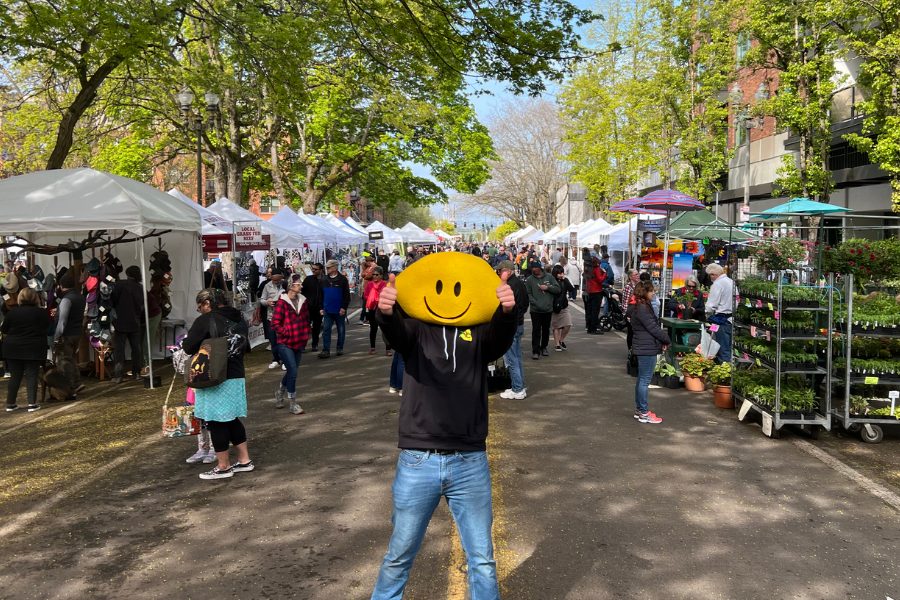 NEXT GENERATION OF OWNERS & CEOs OPENED THEIR BUSINESSES FOR A DAY AT THE GREATER VANCOUVER CHAMBER'S JUNIOR MARKET
Over 150 kids from across the region had the opportunity to test their sales skills and to operate their own businesses for a day. The average profit per stand at the Junior Market is $225, but children commonly make $300 – $500 on a day, and many up to over $1,000. 
Vancouver, WA – The Greater Vancouver Chamber's Lemonade Day Program successfully hosted the Junior Market (co-located with the Vancouver Farmers Market), presented by iQ Credit Union, on Saturday, June 4th. More than 150 young CEOs 6-16 years old from across the region took over the Esther Short Park with their booths to run their businesses for a day and sell handmade or homegrown products to thousands of Farmers Market's consumers. 
These junior vendors were officially open for business from 9:00 am to 3:00 pm after the traditional ribbon cutting ceremony held Saturday morning, before the Junior Market, with the participation of Vancouver City Council member Erik Paulsen and Representative Monica Stonier, of the 49th Legislative District. Community leaders, financial institutions, business owners, and non-profit organizations also joined the ceremony to support and be part of this historic day. 
Art, keychains, candles, plants, bath bombs, jewelry, glitter tattoos, and paintings are only few of the variety of creative products the kids prepared to sell at the Junior Market. The event was full of surprises for the young vendors, including secret shoppers who went around the market evaluating the participants' business pitch and sales skills. Contests and raffles took place throughout this day, which was full of family entertainment, live music, and local shopping.
At the end of the day, the Junior Market's participants calculated their business results with the Greater Vancouver Chamber for an opportunity to win a new bike from Lemonade Day National. By turning in their business results, the kids were also eligible to become the Vancouver Youth Entrepreneur of the Year, a contest that could advance them to the national level to win a $500 cash prize and a trip to the Lemonade Day National City Directors Conference in Houston Texas. 
"This event is part of an entrepreneurial journey our kids joined months ago to be ready for the Junior Market. It's exciting to see all the new business knowledge and effort of our entrepreneurs put into action. We are sure that this experience will make an impact in our junior marketers' lives and future professional careers," said Janet Kenefsky, VP Operations of the Chamber, and City Director of Lemonade Day Greater Vancouver.
Months prior to the market, these future CEOs, guided by a mentor or parent, participated in the interactive and easy-to-use Lemonade Day Program to learn life skills such as business operations, responsibility, financial literacy, goal setting, and teamwork with the end goal of starting, owning and operating a business. The kids benefited from the program's lessons outlined in their youth workbooks or via the My Lemonade Day app while they were at home. 
"The Lemonade Day program is about more than just a lemonade stand. In fact, Lemonade Day suggests kids take the challenge of this real-world scenario to adapt their business model. Thanks to the Vancouver Farmers Market that partnered with the Greater Vancouver Chamber this year to provide our kids with a profitable location to test and operate their businesses for a day, make money, and have a learn first-hand look of what being a business owner looks like," added Kenefsky. 
My Lemonade Day Greater Vancouver is proud partners with: Main Squeeze Investor, iQ Credit Union; Fresh Squeezed Investor, OnPoint Community Credit Union; Simply the Zest Investors, The Columbian, Salsbury & Co., Vancouver Family Magazine, Riverview Community Credit Union, and Palm Beach Tan; Spoonful of Sugar Investors, Columbia Credit Union, Gardner School of Arts & Sciences, Corwin Beverage Company, Mackenzie, Securus Systems, Battle Ground Cinema, 99.5 The Wolf, and Holland Partner Group; Junior Market Bag Sponsor, Bagcraft; and Junior Market Gift Card Sponsor, Big Al's. 
Learn more about My Lemonade Day program at: Vancouverusa.com/Annual-Events/LD/.
Article Source: Greater Vancouver Chamber of Commerce