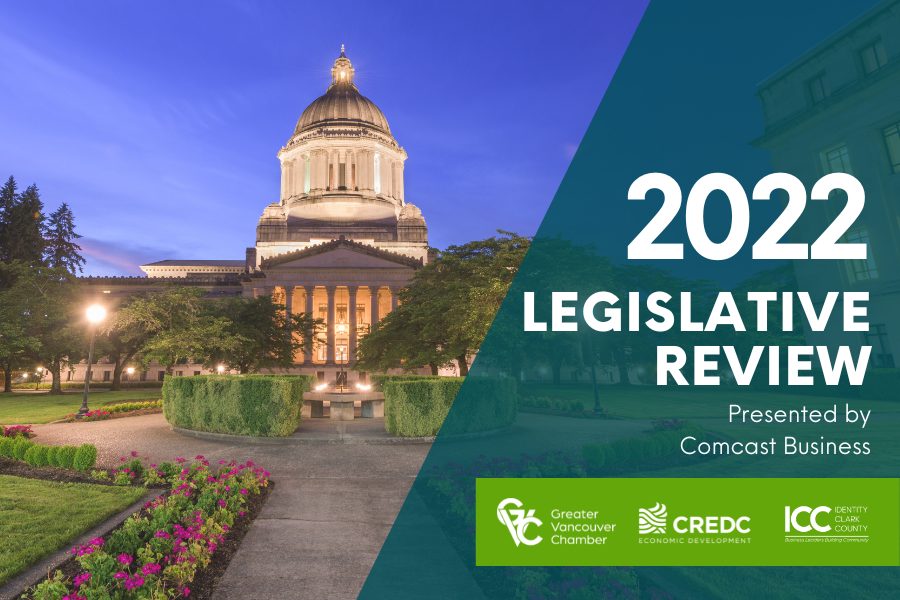 GREATER VANCOUVER CHAMBER AND ECONOMIC DEVELOPMENT PARTNERS  HOSTED THE 2022 LEGISLATIVE REVIEW
State representatives and senators participated in a live Q&A session with business professionals to offer a  fresh view of what is happening in Olympia and what to expect from new legislation. The 2023 Legislative Outlook will be an in-person event on December 9, 2022.
Vancouver, WA – The Greater Vancouver Chamber (GVC), the Columbia River Economic Development Council (CREDC), and Identity Clark County (ICC) hosted the 2022 Legislative Review, virtually, on Friday, April 29, presented by Comcast Business. This annual event gathered local legislators, Washington state lobbyists, and over 100 business leaders across the region to discuss the most recent legislative session and outline the priorities and challenges for next year.
Taxes, I-5 Bridge Replacement Program, employment law, police reform, housing & homelessness, public safety, education, and Long-Term Care Tax were the main topics addressed during this year's conversation.
With the participation of lobbyists Tommy Gantz, Association of Washington Business; Brian Enslow, Arbutus Consulting; and Amber Carter, Amber Carter Government Relations, LLC in a panel-style discussion, moderated by Jennifer Baker, president of CREDC, the event started giving attendees an inside view of what transpired in Olympia during the 2022 Legislative Session. Although there were victories this year that directly impacted the Southwest Washington region, from the panelists point of view there is still work to be done and opportunities to continue advocating for businesses in the area.
"Our focus was not on where the priorities were, but what we would have liked to see them being, which was tax relief for our businesses who really suffered during the COVID pandemic," said Gantz, who is concerned for businesses still struggling from the impact of the COVID pandemic and needing to on plan around new taxes and new liabilities.
In anticipation for the 2023 legislative session, Amber Carter encouraged business owners and stakeholders to get more involved, raise their voices, and stay tuned–in for new bills, especially now when "half of the senate is up for election, which means a lot of education needs to occur on the key issues that affect your business and your community". The lobbyists mentioned that inflation, employment law, public safety, and energy codes will be some of the issues to put emphasis on in the next session.
After the panel, representatives Sharon Wylie, Vicki Kraft, Paul Harris, and Monica Stonier, and senators Annette Cleveland and Lynda Wilson joined Ron Arp, president of ICC, in a live question-and-answer session, that allowed the audience to interact with their local legislators. One of the crucial topics of discussion was the historic legislature approval of the Move Ahead Washington transportation package, which will assign $1 billion to fund Washington's portion of the I-5 replacement bridge across the Columbia River.
Article Source: Greater Vancouver Chamber of Commerce